I turned 29 yesterday. That's right… I now have 364 days to enjoy the last drops of my twenties before I turne 30. I'd like to come up with a "bucket"-list" of things to do before the 3-0 hits me like a ton of bricks.
On the upside, my husband planned a very special weekend for me to celebrate my birthday. Saturday, he woke up early to make me breakfast and took me to the farmers market. We had lunch with my parents, followed by a pedicure with my mom. Then he took me to Soby's in downtown Greenville for dinner. Their White Chocolate Banana Cream Pie is absolutely AMAZING!
On Sunday, my parents came to church with us and then made me a fabulous birthday dinner. All of my favorite foods, my sweet family, presents, a relaxing afternoon, banana cake (YUM!)… it all made 29 feel no quite as bad.
Everyone made my birthday so special! Of course, all of my presents are centered around things that I wanted for the house. John went completely over-budget. I had asked for a new vanity for our powder room and a weekend for him to install it. The negative is that since the old vanity is built-in, we'll have to add baseboards and tile the remaining floor, but it's going to look so good. It'll probably be later this month or early September before we have a whole weekend to dedicate to that project. For now, here's the picture from Lowe's website: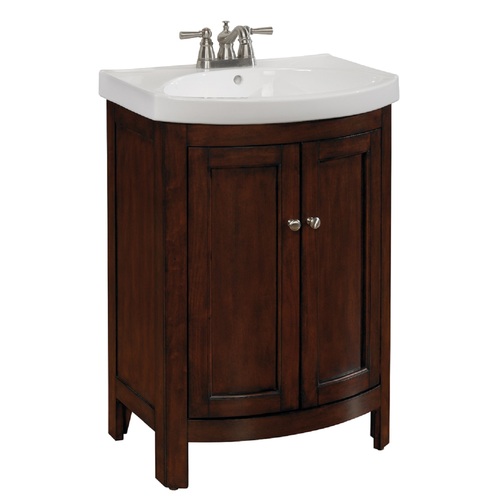 Lowe's was having a sale on vanities, so we got the whole thing for $199! Not bad, huh? I love the slight curve of the front. It's going to be so much better than what's in there now.
I had mentioned that I loved a red hall console that I saw at Costco (yes, I shop for furniture at Costco). It was just the right size. I had hoped that I could get it using a gift card or something, but he got that for me as well! Thankfully, I don't have to wait for that one to get set up. Here it is:
I love how well it fits in that spot. It's basically the only piece of furniture that will fit in the entry way, so I wanted it to really pop. I love the color of it as well. It's such a pretty color of red.
My husband bought the flowers for me when we went to the farmers market. The little picture is actually a canvas that I bought in Paris for $12. I have 3 of them spread out around my house and I love them. I'm a big believer in junky tourist stuff. It shouldn't be missed. If you look at some of it away from the key chains, postcards, mini-Eiffel Towers and horrendous t-shirts, some if it's pretty cool.
My parents are giving me this AWESOME jute rug from World Market. It's going to look so good in my family room and I think it's really going to "complete" that room:
It's on order though. We tried to buy it from the store and they said that we'd be #17 on the waiting list! Do they realize that we can buy it online? Granted, we have to pay shipping, but I can get it in 2 weeks or less. The clerk at the store told my mom, they get in 1 every couple of weeks. So… 34 weeks give or take? No thanks!
My brother and sister-in-law gave me a super cool monogrammed, wooden cheese tray. It's really pretty. PLUS a gift certificate to World Market. They know me so well. It's already burning a hole in my pocket.
Even my rosebushes gave me a gift… HOPE!

My mother is an incredible gardener. Her yard always looks amazing. Unfortunately, it's not a gift that she passed on to me. I have an unnatural proclivity for killing all things green. A few weeks ago, I hacked away at my rosebushes. I found out later that I did it COMPLETELY did it wrong. I assumed that I had pretty much killed any chance of new blooms this year. It turns out, that's not true! I did a lot of research and it says that it takes 4-6 weeks after dead heading to get new blooms. So hopefully, I'll be able to keep getting blooms through September or October.
How about you? Did you have a super fun weekend?